My good friend Webster defines "Ultimate" as "the best or most extreme of its kind". Needless to say that writing the Ultimate Guide to anything is no trivial task. But in this case it's not too difficult, simply because of a loophole in the definition of the word. "The best or most extreme of its kind" implies "currently in existence", and currently there is not much good information online with regard to this topic. Most (if not all) information online is bad, wrong or simply to basic to be useful. There are some good tips, but nothing that outlines a holistic, consistent, effective strategy to conducting and effective online job search. This article aims to do just that.
Truth be told I don't really know if this is the "Ultimate Guide to Conducting and Online Job Search" or not. The reason I put the word "Ultimate" in the title is because adding that single word will likely double the readership of this article. It was put there for marketing reasons more than anything else, well sort of; it was actually put there to make a point about conducting a job search. That point being an online job search is an exercise in marketing, and marketing matters.
Some time ago, I decided I wanted to move into Sales Engineering, So (as per my article Managing your Career in IT) I decided to shore up my sales skills (I already had solid engineering skills) and then convince management to officially move me into a Sales Engineer position. I already often helped out the sales team developing prototypes, proof of concepts and tagging along on sales calls as a "Technical Expert". Unfortunately I was too valuable an asset as Tech Lead & Project Manger, so I was shot down, and shortly thereafter I left the company. (See: So you want to be a Rock Star Developer? Maybe you should reconsider.) As part of my self training I read the book SPIN Selling (recommended by red-dirt in this now deleted question).  SPIN Selling, a book on sales, turned out to be hands down the best book on job searching I ever read!
The premise of the book is fairly straight forward, 1) there is a big difference on how you sell low end (low cost) products and high end (High cost) products 2) To sell high end products you really need a very targeted and often elongated sales process. Often you have to get through a gate keeper to reach the real decision maker, and then you need to understand what the real decision maker is looking for, and then target your pitch exactly to that. This turns out to be very similar to what you need to do when conducting an online job search. And this brings me to my second point of this article: Just like a book on sales can be a valuable reference to one conducting a job search, so too can your skills be used in a variety of ways, (hence the importance of choosing to learn transferable skills). So, you need to understand how your skills can be used, and more importantly how to explain the transfer-ability of the skills (to the skills your potential employer is looking for) in such a way that the gate keeper can effectively sell you to the decision maker. (Read that sentence again) How to do this will be extensively discussed in Parts II & III of this article.
Your online job search had two (overlapping) phases
1)      Marketing: Finding and advertizing your self to potential Employers. This is everything you do up until you get a person on the phone discussing a specific opportunity
2)      Sales: Direct contact with a potential employer where, building on your marketing, you sell yourself as the perfect candidate for the job.  (Unfortunately, in today's job market beating out the competition is not enough; you need to be the perfect candidate). This is every thing you do from the moment you get a person on the phone discussing a specific opportunity and afterward.
Your Online Job Search "Sales Process" should look something like this:
1)      Marketing
Look for Markets – ie. Research where (what roles\position\industries) that there are good opportunities for your skill set and will position you for growth.
Generate Leads based on your research
Qualify your Leads
Market to your Leads – By sending a targeted Cover Letter & Resume
Get Responses
Qualify Responses
Postmortem
2)      Sales
Develop\fine tune a targeted sales pitch for each response (These are no longer leads, These are now Opportunities)
Make first (direct) contact.
Recruiters\HR
Phone screen(s)
In Person Interview(s)
The Offer
Negotiation
Postmortem
The Marketing Phase is used to bring in leads, qualify those leads (eliminating the ones you aren't interested in) and hopefully converting the few that you are into Opportunities. During the Sales Phase you focus on closing those opportunities. Each step in the above sales process has its own set of techniques and strategies. You need to constantly analyze the techniques and strategies you are using for each step and look for ways to improve upon them. This is particularly true if you change a strategy, you need to know if that change is working for or against you. Lastly if you are not happy with the conversion rate from one particular step to the next, you should be asking your self "What am I doing wrong here and how can I improve on that?"
Here's what my "Sales Pipe" looked like towards the end of my last Job search. (Conducted between Feb. & June of this year)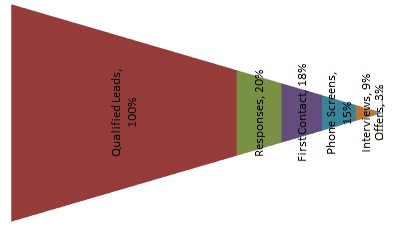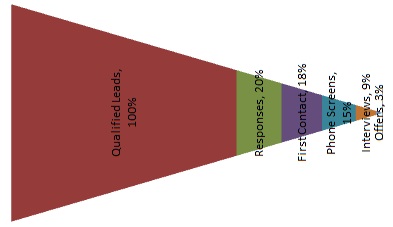 So basically, I know that if I sent out 100 resumes to qualified leads, I would get about 20 call backs; I'd interview for about half of those, and wind up with 2-3 offers. I honestly don't know how good this compares to the average; I simply have no statistics on it. But I will tell you this; my numbers have vastly improved by doing using the strategies and techniques I will describe in the next two parts of this article. (I'm sure the sorry state of the economy didn't help things.)
Part II of this article will focus on Marketing, specifically: looking for markets, how to qualify a lead, composing a "Flexible" cover letter & resume so it can be easily "customized" and targeted, and qualifying responses.
Part III will focus on Sales, specifically: Developing targeted sales pitches, First contact, dealing with Recruiters & HR, Phone screens, Interviewing, and Negotiating offers.
Parts II and III will be published in the coming weeks, so stay tuned…..
One last thing: this article deals exclusively with conducting an online job search, there is an obvious missing piece here, and that piece is the importance of "Networking". Unfortunately I don't consider myself an authoritative subject matter expert on Networking. I am simply not going to give out advice that I feel is unproven, and for that reason I won't be writing about it. On that note, we are always looking to expand our blogging team, if you would like to write an article on Networking or any other subject matter that is of interest to the Programming Community, please drop us a line in the Programmers Community Blog Chat Room.
Recommended Reading